I am pleased to announce Build Your Own Watch is now partnering with the Cas-Ker Watchmaking and Jewelry Supply company for our new and improved tool kits!

Cas-Ker: A Cincinnati Watchmaking and Jewelry Supply Company
The Cas-Ker company was started in 1927 as the American and Swiss Watch & Supply Company. In 1937 the name was changed to its present form. The Cassady brothers who now own and operate the business represent the third generation of family ownership!
Cas-Ker is located with us here in Cincinnati, OH and we are thrilled to have a nearby company to work with us on our tool kits, and one that has such a long history of serving watchmakers!
They have a massive inventory. I was a kid in a candy store during our visit!
New Build Your Own Watch Tool Kits
We have worked closely with Cas-Ker to develop not just one, but 2 Tool Kits to choose from. We also improved the tool kit from the one we have been recommending in the past!
Economy Watch Tool Kit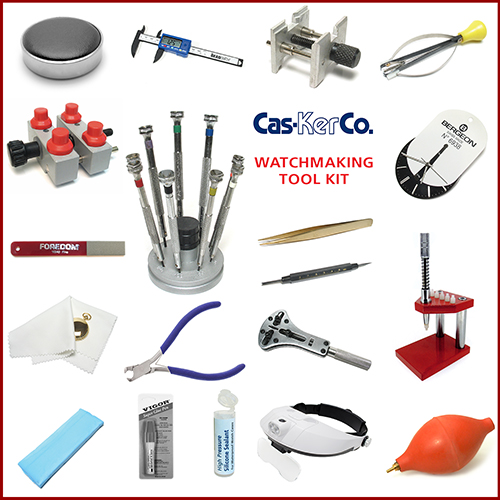 The new Economy Tool Kit includes all the items you need and none that you do not. It has items that we did not have included in the previous Tool Kit that will make your build easier, and allows you to get started right away without having to obtain any additional tools.
This has increased the price over the previous tool kit, but includes items you would have needed anyway, like a digital caliper, diamond file, end cutters, and a big improvement in the hand setting tool going from a stick style hand press to a more professional style watch hand press.
Advanced Swiss Watchmaking Tool Kit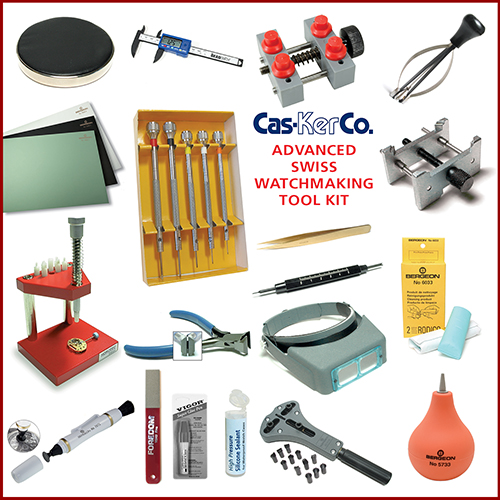 Cas-Ker is also offering a complete Advanced Swiss Watchmaking Tool Kit. This kit is comprised mostly of Bergeon and Horotec watchmaking tools that the Pros use.
These tools do not come cheap, but the build quality is on such a level that they will last you a lifetime. I personally use many of these tools in my own builds, and you may see a few in our instructional videos.
If you plan to continue working on our watch projects and others you own, you may want to consider the initial investment. We will continue to release new quality watch projects as we grow!